In a bid to make insurance more accessible to Filipinos, select Sun Life of Canada (Philippines), Inc. (Sun Life) insurance products will be available to borrowers of Quick Loans Online (QLO), a cost-free and risk-free salary loan facility powered by fintech lending company MR Angel Credit Corp. (MRACC).
Under the initiative, qualified QLO borrowers will automatically enjoy free Sun Life personal accident insurance with a maximum coverage of P80,000. Once insured, the borrower will be covered for a full year for contingencies such as loss of life, dismemberment, and loss of sight due to accident. The insurance covers various occupations except for police, military, naval, or air service.
"We are excited about this tie-up with MRACC under their QLO facility, as it allows us to widen our reach and protect more Filipinos from life's uncertainties. It's a step towards Sun Life's goal of helping Filipinos achieve lifetime financial security," Sun Life Philippines CEO & Country Head Benedict Sison said. "We thank MRACC for their trust and support."
Meanwhile, MRACC CEO and President Mica F. Tan shared, "Through QLO, it is our goal for working Filipinos to achieve financial security and peace of mind. This tie-up between QLO and Sun Life came at a time when the outbreak was at an unprecedented level. For this reason, it was important for us to find ways to provide free insurance coverage for our borrowers. QLO is not only lending funds in times of emergency – we are also committed to providing safety and security for our borrowers and their loved ones."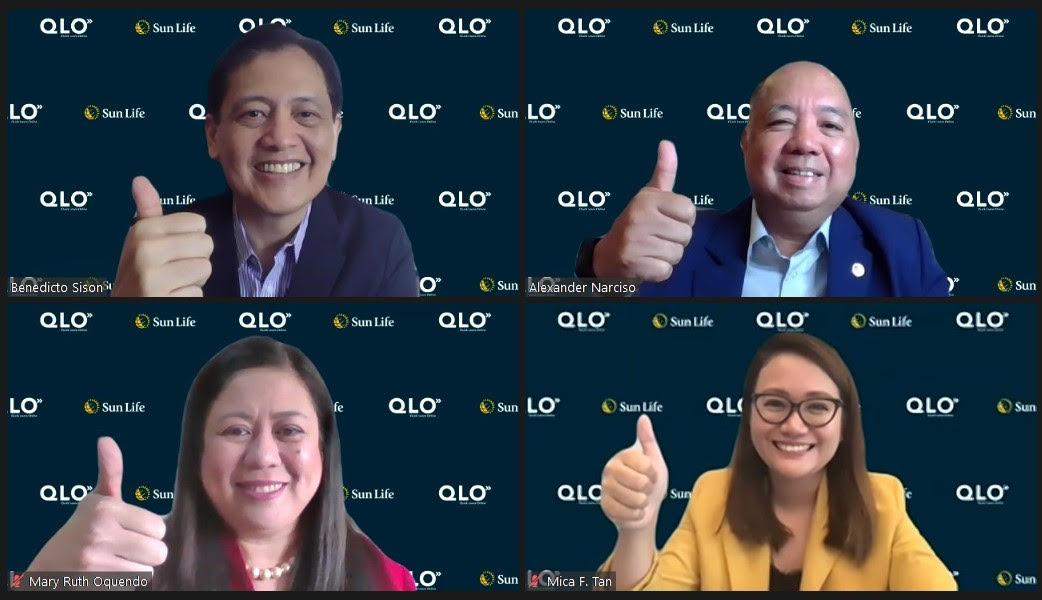 The strategic partnership between Sun Life and MRACC was formalized through a virtual contract signing attended by Sun Life CEO & Country Head Benedict Sison, Sun Life President Alex Narciso, MRACC CEO and President Mica F. Tan, and MRACC Vice-President Ruth Oquendo.
——————
About Sun Life
Sun Life is a leading international financial services organization providing insurance, wealth, and asset management solutions to individual and corporate Clients. Sun Life has operations in a number of markets worldwide, including Canada, the United States, the United Kingdom, Ireland, Hong Kong, the Philippines, Japan, Indonesia, India, China, Australia, Singapore, Vietnam, Malaysia, and Bermuda. As of June 30, 2020, Sun Life had total assets under management of $1,122 billion. For more information, please visit www.sunlife.com.
Sun Life Financial Inc. trades on the Toronto (TSX), New York (NYSE), and Philippine (PSE) stock exchanges under the ticker symbol SLF.
Note to editors: All figures in Canadian dollars.
About Quick Loans Online
QLO (Quick Loans Online) is a salary loan facility owned and operated by MRACC, which offers employees of partner organizations quick access to cash. By catering to their urgent financial needs, QLO provides employees with financial stability and peace of mind.
About MRACC
MRACC (MR Angel Credit Corp.) is a financial institution founded on a mission to provide quick and accessible financial assistance in the form of salary loans to employees of partner organizations. Established in 2014, MRACC has served close to 5,000 employees in Metro Manila to date.
Backed by its team of financial experts with over 40 years of cumulative experience in the banking and lending industries, MRACC has evolved into a fintech lending company in its commitment to make credit facilities more accessible to the working Filipino.